Product innovations from the field of competence "precision dosing" are the main focus on the stand of ViscoTec Pumpen- u. Dosiertechnik GmbH at this year's Automatica exhibition in Munich. For fully automated industrial production, the dosing and dispensing components from ViscoTec provide highly repeatable solutions for demanding dosing tasks. The following metering systems will be displayed: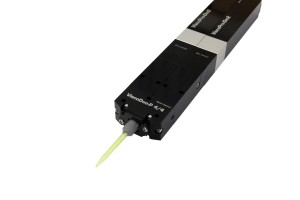 The 2-component dispenser ViscoDuo-P 4/4: this 2-component dosing solution provides an optimal use of space within a minimal enclosure, allowing for a very compact design of the whole dosing line. A smaller dosing unit reduces the total required space on the factory floor. This product has been designed with a minimum weight in order to significantly reduce the required load on the robot or axis systems. A special feature of the ViscoDuo P 4/4 is its unlimited cascadablity, allowing minimal gaps between the dosing heads within a multiple dosing system. The modular design of the ViscoDuo-P 4/4 enables individual system configurations and easier maintenance.
High pressure dispenser 6RD8-EC: with this product, the endless piston principle has been further developed to extend the range of dosing pressure. ViscoTec has expanded its portfolio to offer a product with the same dosing precision as current dispensers, but within a greater range of dosing pressure. The pressure ranges achieved far exceed the values of conventional eccentric screw dispensers.
Dispenser 2RD12-3D-EC: This ViscoTec product, though equal in size to the standard version 3RD12-EC dispenser, can achieve three times the dosing volume (5.0ml/revolution). The dispenser supplements the product portfolio with its usual reliability for volumetrically precise dosing.
Within the extensive portfolio of ViscoTec Pumpen- u. Dosiertechnik GmbH, there are many established extraction, preparation and dosing solutions to choose from, for a wide range of 1-component and 2-component adhesives and sealant liquids.