We are your professional partner for general industry. With our dosing systems you will have a perfect component in your production process. We have put together a summary of some industry-specific examples to show you our areas of application.

Adhesive dispensing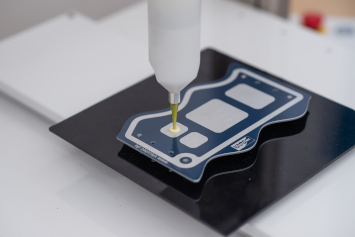 Bonding is a joining technique that has proven itself for connections in a wide range of applications. For perfect adhesive dispensing, the use of the appropriate dosing technology is necessary. With our dosing systems we guarantee automated, reliable processes. They work independently of viscosity and dispense air bubble-free and pulsation-free. This enables you to achieve high-precision dosing results in your application: Both with 1-component and 2-component adhesives. By applying exact quantities, we create mechanically and optically perfect bonds and, in addition, unnecessary and often costly waste of material is prevented. For the core components of our dispensers, we choose selected resistant materials.
Learn more about this reliable connection.
Dosing of sealants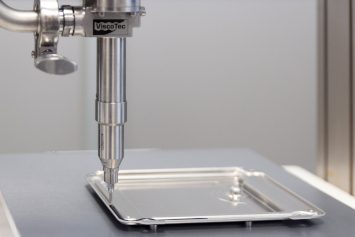 ViscoTec dosing systems for the application of sealants are customized to the material to be dosed. High precision and an absolutely material-friendly dosage are ultimately the key to meeting the high demands from the various industries and to fulfilling the specifications. For the perfect sealing bead, it is necessary to use the appropriate dosing technology. It must be designed and used correctly. Constant bead thicknesses with clean transitions, variable dosing speeds with special geometries of the sealing bead, exact quantities and clean thread breakage – that is what our products stand for.
Find out more about sealant dosing using an example from the aerospace industry.
Flux application
ViscoTec's material provision systems and dosing systems for flux applications have been developed for high production rates and levels of dosing precision. The systems supply precisely controlled dosing quantities even at extremely high belt speeds, such as those required in the production of heat exchanger segments, for example. A selection of stator materials is available, enabling a very wide variety of media to be used and allowing the user to achieve optimum process stability in terms of the system's chemical and mechanical resistance. ViscoTec offers not only dosing components for the flux application area, but also complete solutions that make our company's vast process experience available to users.

Soldering paste application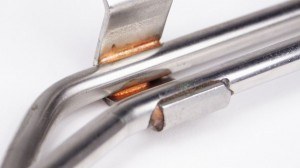 Due to their very particular material properties, soldering pastes must be processed under strict observance of and adherence to important material and process criteria throughout the entire process route, from material supply to the dosing system. Their extremely high filler content and their filler weight means that soldering pastes have high relative densities, a pronounced sedimentation effect and extremely abrasive behaviour. In the area of soldering paste preparation and dosing, ViscoTec can provide complete solutions that meet all process requirements for a high-quality soldering paste dosing procedure. Receiver tank systems with the option to recirculate media prevent the sedimentation process from occurring and ensure a high level of media consistency during processing in order to maintain the high quality standards required in automobile production.



We would be delighted to advise you on finding the most efficient solution for your needs.