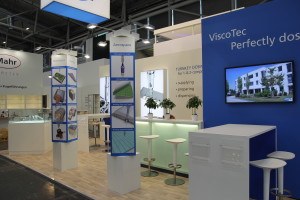 At this year's Automatica – the international leading technology fair for robotics and automation in Munich – ViscoTec presented again up-to-date technologies and products. The exhibition shows itself as an international showcase for robotics focusing Industry 4.0.
The current expansions of the product portfolio have been represented:
ViscoDuo-P 4/4 – the new 2K-dosing solution with an optimized installation space design for a minimum of required space in automatic production lines
High Pressure Dispenser – endless piston principle with an expanded dosing range – up to 150 bar
Dispenser 3D – 3 times higher dosing quantity with an equal dispenser design
Many customers and prospective buyers profited by the opportunity to ask the ViscoTec dosing experts about their specific dosing tasks and project requests, taking
into account of the prospective benefits of the separate dosing components and the cost efficient use, competently advised. The planned 1K- and 2K- dosing processes are planned optimally and synchronized to the particular case of application. As a special solution provider for precise dosing technology tasks ViscoTec performs highly reproducible dosing processes at the fully automated industrial production. Even complicated tasks will be achieved as technical fully developed dosing processes – with all necessary components from one source only.
In summary the Automatica has been – as usually – a valuable basis for an optimal exchange of experiences and the ideal location with the perfect atmosphere to get to know and inform interested parties and potential customers.