The dosing specialist from Töging in Germany supports social projects and initiatives within the region regularly. "We want to make our contribution where public authorities cannot or do not want to help." says Georg Senftl, CEO of ViscoTec Pumpen- u. Dosiertechnik GmbH. This year, the Christmas donation at a value of 2,000 € goes to the 'Muehldorfer Tafel'. The food banks collect excess food of flawless quality to needy persons.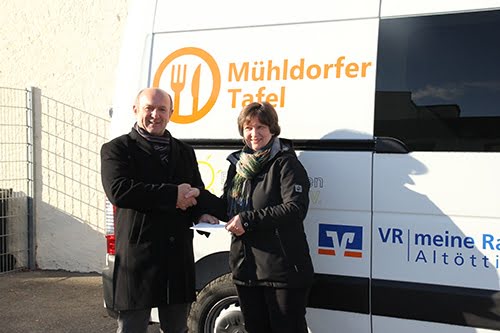 In Mühldorf, explains Doris Oertl from the 'Mühldorfer Tafel', the number of deprived persons does not become smaller. Mainly elderly people come to us regularly. For some years now we collect food products to pass it on in the food bank store. The 'Muehldorfer Tafel' with its voluntary assistants and organizers can only exist if it is sponsored. To make sure that the food – we speak about valuable food surpluses – reaches the needy people at all, complex logistics performance is needed. Although the food donations are for free a variety of costs come up: Transport, storage and cooling, rent for rooms and buildings, building charges and many more.
Georg Senftl, who has visited the 'Tafel' on-site is sure that the money is in the best of hands there.
ViscoTec Pumpen- u. Dosiertechnik GmbH has set itself the tradition to forgo presents at christmas for its business partners but instead to make donations to regional institutions.