Liquid Adhesives: The Requirements for Adhesive Technology
Challenges for users and designers
The use of adhesive creates a reliable bond. This has now been demonstrated in almost all industries, in the most diverse applications. But the demands on the type of bond are constantly increasing. And these demands also need to be met in the future. Material combinations are the key to success. This is where the potential of adhesive bond comes to light: Because only with them is it possible to connect different materials permanently whilst fully retaining their properties. However, the advantages of this technology can only be exploited if they are well planned and used correctly.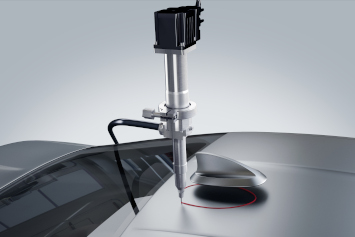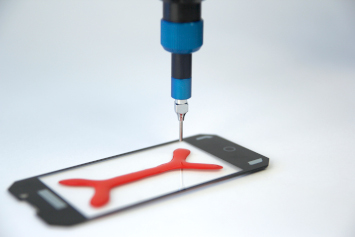 Users or, even before them, designers often lack the necessary expertise or experience to plan and implement partially or fully automated projects effectively and efficiently. There are many influencing variables that can contribute to the success or failure of a bonding process in automated production: Adhesive, dispenser, robotics, conveying, programming, environment, etc. And there are also many variables that influence the quality of an adhesive application: Dispensing needle or tip, application speed, dispensing quantity, viscosity of the adhesive, air bubbles and many more. This whitepaper from ViscoTec will give you an insight into some of the stumbling blocks in designing adhesive dispensing systems, as well as in the application of liquid adhesives and how they can be eliminated.
The first challenge is finding the right adhesive for the current project. The next challenge is: Which system is best suited to apply the adhesive? How can the dispensing technology be implemented in the most cost-effective, but also most efficient way, into an already existing production line? If important points such as these are not observed, production delays, additional costs or quality defects in the actual bonding process will quickly occur.
Types of liquid adhesive and specific challenges
The basic ingredients of liquid adhesives are resins, solvents, hardeners, fillers, and additives such as plasticizers, antioxidants, etc. There are physically setting adhesives and reactive adhesives. The former are one-component adhesives, whereby solvent-based adhesives and dispersion adhesives are used in the industrial sector. In the solvents and dispersions, polymers are either dissolved or finely dispersed. The evaporation of the solvent causes the adhesive to set and build up strength. These adhesives usually have longer drying times and must be protected.
With reactive adhesives, the actual polymer structure is only formed during curing. One-component reactive adhesives react, i.e. with moisture or the polymerization reaction is initiated by means of UV light or an air seal. In many applications, two-component as well as one-component reactive adhesives are used. These generally offer the advantage of longer storage stability, as the reaction partners are separate from each other. Two-component reactive adhesives must be mixed exactly in the specified mixing ratio and then usually applied quickly. This is due to the fact that they only have a limited processing time, the so-called pot life, before they cure completely. The pot life can range from a few seconds to several hours.
The faster adhesives cure, the more heat is released during curing due to the mostly exothermic reactions. In the worst case, the adhesive overheats too much, causing the component to become damaged. Depending on the future temperature application range of the component, it may make sense to cure the adhesive at similarly high temperatures. This is important in order to prevent later tensions or to prevent severe post-curing. Post-curing would possibly be associated with a further slight shrinkage, which can cause pins on electronic components to shear off, i.e. in the electronics industry.
ViscoTec dispensing systems are successfully used with the previously mentioned type of adhesives, i.e. solvent-based adhesives, and dispersion adhesives. And with very different one- and two-component reactive adhesives, such as acrylate adhesives, epoxy resins, polyurethanes, hybrid polymers. Just as with sealants and adhesives, also with silicone adhesives and polysulphide sealants. They are suitable for bead, dot, and spray applications and for casting components.
What requires special attention with the adhesives?
The reaction time – especially with two-component adhesives – must match the application. In some cases, adhesives are selected that cure so quickly that there is not even enough time left to bond. The result is low adhesion. This is aggravated by the fact that the material is discarded due to constant rinsing. Which is necessary to keep the mixing tube free.
It is important to consider the thermal expansion of the adhesive and component. Often even small temperature increases are sufficient to create high stresses if thermal expansion is hindered. For certain applications, i.e. in optoelectronics, adhesives with only low thermal expansion can be used. This is the only way to guarantee a high-quality end product.
Solvent-based adhesives are usually highly flammable or may release flammable vapors. The solvents can also cause physical impairments such as breathing difficulties, dizziness, skin, and eye irritation. It is essential to use appropriate equipment when processing: Suction, inert gas flushing, explosion-protected area etc.
With one-component heat and moisture-curing adhesives, it should be remembered that longer downtimes can cause curing in the system. A regular material flow is necessary here. The application is usually carried out on one side of the component. The adhesives must always be processed exactly according to the manufacturer's instructions or within the permissible ambient conditions.
It is particularly important to avoid moisture when processing polyurethane-based adhesives or casting compounds. The hardener could react with it and cure the material. But even the resin could suffer from side-effects due to moisture after mixing: The release of CO2 could then possibly lead to bubbles and tension.
When casting under vacuum or subsequently evacuating the cast component, it is important that the individual components of the casting compound are degassed separately before mixing and application. Otherwise the dissolved air or possible air bubbles in the components would lead to strong bubble and foam formation in the component. This in turn would lead to an uncontrolled contamination of the component.
As a rule, the type of adhesive to be used is strongly dependent on function, application temperature, necessary force transmission and material or surface of the retaining partners. Likewise, the resistance of bonds to environmental influences depends on many factors.
Specific challenges for design engineers
Yet in the construction of the components, the adhesive-friendly design must be taken into account accordingly, e.g. to avoid peeling stress on the bond and to make use of as large an area as possible. In the same way, the gap dimension must match the adhesive or vice versa. For many adhesives there is a maximum bond gap, otherwise cohesive failure of the bond will occur. And above all there is a sensible implementation with regard to costs, production process and the machine technology used.
The machine technology used, especially the dispensing technology, brings with it its own challenges. Regarding the types of construction, this means that special attention must be paid to the relationship between the adhesive surface, gap and surface quality. Also, important to consider: Does the process require a pre-treatment of the surfaces? Or are other joining methods additionally required – with regard to contact pressure forces, pressing time, etc.?
One of the biggest differences between the design of a one-component and a two-component system is the amount of cleaning required. Flushing cycles must be strictly observed during operation. Another important point is the greater need for space and higher acquisition costs for two-component systems.
In general, this applies to all industries: The mixing ratio of two-component adhesives must be accurately maintained. An absolute precise dispensing is required. For example, in the automotive or electronics industry, there is usually a lower tolerance on the total quantity.
A major difference between the various industries in which adhesive bonding technology is used, is still the degree of automation of the system. Especially the capability to call-up and log various process-relevant parameters via software. Complete traceability of which component was applied, when and with which parameters, can only be achieved in a fully automated system. Bonding in the electronics and automotive sectors is much more critical than, for example, bonding ventilation shafts, wooden panels or similar.
Common sources of error – and how to avoid them?
Problems sometimes appear quite late due to a lack of advance information or insufficient process knowledge or process description. They can then often only be resolved at great cost. Often, both the end customer and the machine manufacturer lack the necessary knowledge and valuable experience: They are not aware that a lack of information or supposedly "small changes" in the follow-up or in the current project can result in considerable changes to the dispensing system in order to achieve a stable process. If, for example, the actual dispensing quantity is smaller or larger than originally specified, this often means that a different mixing head is required. Or, in the short term, one decides to use a different adhesive, which, in the worst case, may require a completely different dispensing system due to its properties.
Even the interaction of individual process components from different manufacturers often causes interface problems. Or another classic mistake: The end customer wants to plan and assemble the hose line himself. In this case the hoses used are often far too thin and too long – and in the end too little material is provided to the dispensing system. At this point, the layout is often already fixed and in the worst case, for example, larger linear axes, robots or similar would be necessary. Or an emptying or feeding system needs to be closer to the other components, but this is no longer possible due to lack of space.
How can problems be prevented?
On the one hand, the process must be documented in a comprehensible way. The documents of all components must be complete and, in addition, must be described in sufficient detail. Insist on the handover of all necessary documents.
Use self-contained systems where possible. For example, there are adhesive manufacturers who offer "all-in-one" packages and therefore guarantee functionality. Or rely on solutions that have been sufficiently tested in terms of suitability and process reliability in coordination with the adhesive and dispensing technology manufacturers.
Ask for a permanent contact person who is familiar with the project to help with questions and queries.
Potential system set-up of a 2-component dispensing system:
Things which must be observed in the daily use of the adhesive dispensing systems:
Do not leave adhesive components open. This will cause the ingredients to evaporate – as well as the resulting surface tension: Because material properties could be adversely changed, and moisture-sensitive adhesives could otherwise cure partially or completely.
The dispensing materials must not be stored for too long in order to prevent sedimentation of the fillers – it is strongly recommended to work according to the first-in-first-out principle.
Do not add air to the material when stirring. The aim is a completely homogeneous mixture. Air bubbles in the material to be dispensed can lead to reduced adhesive strength. If in doubt, a material treatment system, i.e. degassing of the adhesive, should be installed downstream but after stirring.
With 2-component polyaddition silicones, carry over of the platinum catalyst into the second component must be avoided at all costs. This could happen, for example, if one and the same tool is used for both sides of the line – and would lead to curing.
For 1- and 2-component polyaddition silicones, it is important to prevent catalyst contamination through contact with sulfur, amine or organometallic compounds or plasticizers. Contamination could be caused by using the wrong glove material or sulfur-crosslinked seals or hoses, for example. The result would be a material that is too soft and sticky, or sometimes even completely liquid.
The use of metals (especially non-ferrous metals) in the processing of anaerobically curing adhesives should be avoided. Using them would result in additional activation and subsequent curing in the dispensing system. If the use of metallic components is absolutely necessary, they should be made of stainless steel. They should be additionally passivated – possibly even regularly, depending on production cycles.
More hardener generally does not automatically mean faster or better: For many adhesives this is even counterproductive (polyaddition reaction). Even with polymerization reactions, there is only a limited range in which one can alter the mixing ratio to adjust the kinetic reaction and the final properties.
If silicones and other adhesives and coatings are used simultaneously, carry over must be avoided at all costs to avoid adhesion problems.
Three important tips for working with adhesives:
Consider specifications / data sheet
Acclimate the adhesive
Use correct cleaning agents
Expertise down to experience
ViscoTec can look back on more than twenty years of experience in the field of bonding technology. During that time, there have been numerous challenging applications, which have often led to new findings and expanded know-how. As a result, the dispensing technology specialists offer sound advice – in a wide range of industries and areas of application – on all aspects of adhesive bonding technology.
In addition to technical advice, extensive dispensing trials and series of tests are carried out in our own technical center. Always in close cooperation with customers and adhesive manufacturers. ViscoTec has made it its business to determine the most suitable dispensing technology for all customers. Numerous test systems are available for carrying out the trials – from emptying and treatment to the dispensing or application of one and two-component materials.
Over time, ViscoTec experts have built up an extensive network and have been working successfully for decades with the most renowned adhesive manufacturers worldwide. We continuously invest in new technologies and innovative further developments.
Whether you require information on application limitations, about possible errors during development or operation, or if you have questions about dispensing in specific environments, i.e. under vacuum – ViscoTec will be pleased to advise you.
Do you have any questions?