Filling skincare products such as soaps, pastes and scrubs
Proper hand washing is one of the big topics this year. More than ever, we are aware that hand washing prevents the transmission of many agents that cause infections. While a simple liquid soap is sufficient for normal hand washing, soaps or pastes for the industrial sector often have to be enriched with abrasive fillers. Only with such hand washing pastes can heavy soiling such as adhesive residue or motor oil be washed off. Similar abrasive ingredients are also used in cosmetics production for scrubs or waterless soaps.

Challenging abrasive pastes for filling pumps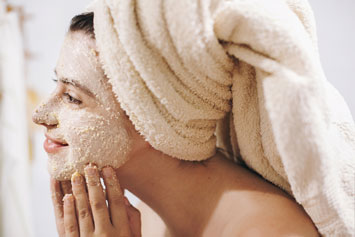 In addition to the abrasive behavior of these products, they often have a highly viscous fluid characteristic – both challenging properties for dosing technology. Conventional filling systems in the cosmetics industry, such as piston pump fillers, find it difficult to handle these materials. The particles get stuck between the piston and the cylinder – the piston then erodes or wears out quickly.
ViscoTec dosing and filling pumps were developed purposely for such types of liquids and pastes. By using the precise endless piston technology, they are even suitable for filling small quantities, for example in stick pack samples.
Special configuration for particularly high temperatures
Due to their high viscosity, the materials must sometimes be heated when dosed, otherwise they will not run cleanly into the target container. ViscoTec offers special rotor stator configurations for particularly high temperatures.
In addition to dosing and filling pumps, the ViscoTec portfolio also includes feeding solutions. After production, the product is initially filled into barrels. The actual filling of the final containers usually takes place at a different location. ViscoMT removal solutions are suitable for removal from the barrel. A 2-point pressure control ensures a low-pulsation supply to the filling machine.
Further information on dosing solutions and filling pumps for the cosmetics industry can be found here.