Don't leave the quality of your products to chance. Maximum reliability, a high level of quantity and form precision, plus the cost efficiency of your processes are the most important factors in production. Even a small deviation in dosing quantity caused by a temperature-dependent viscosity change can lead to a huge amount of rejected material.
With our dispensers, we offer our customers reliable, exact and automatic dosing from a few microlitres to around 1 litre per second, depending on the dosing material.
Dispensers and Pumps for Dosing, Applying and Spraying Applications
Reliable, accurate, automatic and repeatable: For precise material handling and exact compliance with the dosing volume or mixing ratio.
Volume flow: from 0.05 ml/min – 20 l/min
Smallest dosing quantity: 0.005 ml
Mixing ratio: 1:1 to 100:1
Area of application: Application & implementation, 2-component dosing, encapsulating, spraying, 3D printing
1-component Dispenser
RD-EC series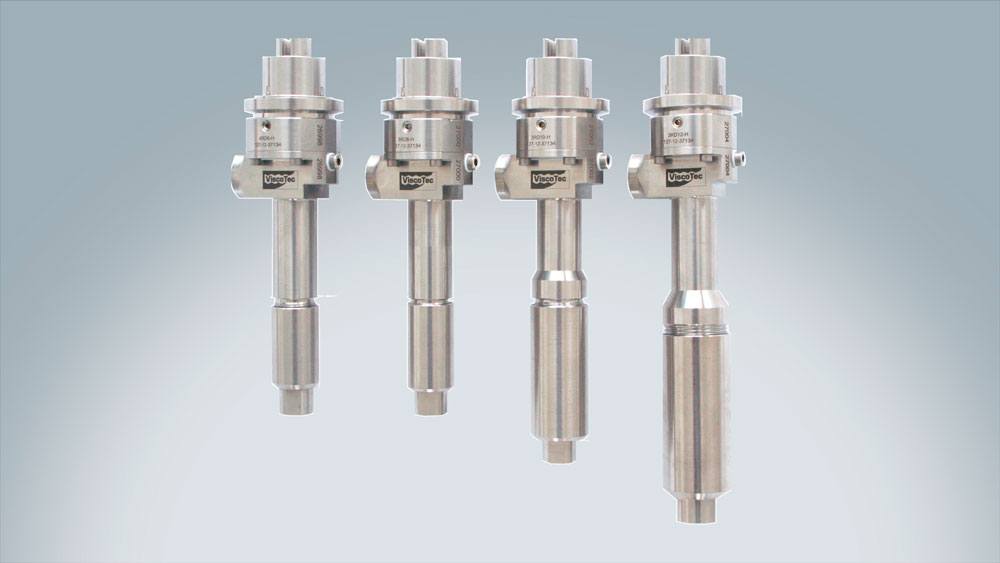 Dosing volume: from ~0.05 ml/rev to ~5.0 ml/rev
Volume flow: from ~0.5 to 625 ml/min*
Min. dosing volume: 0.002 ml**
VMP series

Dosing volume: from 4.0 to 65.0 ml / rev
Volume flow: from ~40.0 ml/min to 8,125.0 ml/min*
Min. dosing volume: 0.25 ml**
Hygienic Dispenser VHD

Dosing volume: 0.12 ml/rev to 5.1 ml/rev
Min. dosing volume: 0.05 ml**
Design according to EHEDG-guidelines
FDA compliant elastomers
Hygienic Dispenser VPHD

Dosing volume: from 0.05 to 50.0 ml
Volume flow: 0.05 to 800 ml/min
GMP design for COP and CIP, incl. 3.1 certificate
Spraydispenser RD Spray

Economical material application with high-priced dosing materials
Spray width and spray intensity are adjustable by air pressure
Speed-dependent dosing – flexibly variable even during the dosing process
Uniform coating of the surface
Low cleaning and maintenance costs
Perfectly suited for low to medium viscosity materials
Visit us at Bondexpo. We will show the spraydispener in Hall 6, Stand 6419.
2-component Dispenser
ViscoDUO-P 4/4

Mixing ratio 1:1 to 10:1* (depending on the version)
Dosing volume: 0.05 ml / rev per dispenser
Min. dosing volume: 0.01 ml*** each mixing head
Max. continuous output volume: ~0.2 ml/s respectively 12.0 ml/min*
ViscoDUO-VM

Mixing ratio 100:100 to 100:1*
Dosing volume: from 0.12 to 5.0 ml / rev
Min. dosing volume: ~0.005 ml**
Volume flow: from ~1.2 to 625.0 ml/min*
vipro-DUOMIX

Mixing ratio: 1:1 to 20:1**
Dosing volume: from ~0,12 to ~5,1 ml/rev
Min. dosing volume: ~0,005 ml**
Volume flow: up to max. 400 ml/min possible*
VisCompact Duo-Desk

2-component desktop device and dosing system
Mixing ratio: max. 1:10
Dosing volume (complete A/B): 2.2 ml/rev**
Min. dosing volume (complete A/B): 0.100 ml**
*Depends on the mixing ratio and the viscosity of the dosing material.
**Depends on dosing material, viscosity, pre-pressure and mixing ratio.
Application examples
Applying and administering
Applying and administering
With ViscoTec dispensers you can achieve perfect administration and application. The special design and method of handling enable them to be easily integrated into robot and axis systems. Lightweight and flexible, ViscoTec dosing systems facilitate a quick change-over between dot application and bead application, irrespective of fluctuations in viscosity.
This results in the precise application (with a high level of repeat accuracy) of a very wide variety of media, such as adhesives and sealants, soldering pastes and heat transfer pastes, insulating varnishes or greases. In respect of bead applications, we achieve a consistent bead coefficient of under 2%, even with uninterrupted beads.
2-component dosing
2-component dosing
Nowadays it would be impossible to imagine modern production without two-component materials, particularly in the automotive industry, the electronics industry and the field of solar technology. But in the production of aeroplanes, HGVs, sports equipment, articles of daily use and even clothes too, there is increasing use of adhesives, sealants, fillers and insulation comprising two components (resin and curing agent).
Only when the two components are mixed in the correct ratio, at the time they are about to be used at the production site, do they cure and achieve their ultimate strength. The primary goal for the optimum automation of such applications is not only dosing precision, but also strict adherence to the mixing ratio. With our special mixing head from our metering components we ensure that the exact mixing ratio is retained from the very start to the very end of the dosing procedure, even where very small quantities are concerned.
Potting
Potting
The potting of components is taking on crucial significance in more and more industrial fields.
In the automobile industry in particular, huge competitive pressure is resulting in new requirements in terms of the quality, resilience and, above all, the reliability and service life of components all the time.
The many years of know-how and the special technology which have gone into ViscoTec dosing systems and mixing systems enable us to meet the specific demands placed on the materials and systems used.
Spraying
Spraying
Does your system contain a spray application which shows problems such as irregular delivery output, pulsation or fluctuations in viscosity? ViscoTec technology provides you with a system that facilitates an even volumetric output of the medium, irrespective of fluctuations in viscosity. ViscoTec redefines the term "volumetric spraying": The symbiosis of volumetric dosing and spraying in one dosing/spray head. By regulating the dosing quantity, a constant layer thickness can therefore be ensured (at the same time as the quantity, for quality assurance measures) even if the painting robot has different traversing speeds.
Together, we will find your perfect dosing system.